How do I check tyre pressure?
Do you check your tyre pressure on a regular basis? Checking your tyre pressures regularly is quite easy and certainly important if you want to get the most out of your tyres, including lifespan and safety.
Did you know that your tyres are deflating every day? Up to two kilopascals are lost everyday through the cooler months and even more when it warms up in summer. This loss of pressure might be small but it adds up over time and before you know it, you're doing damage to the tyre or worse, it could be unfit to drive.
When do I need to check tyre pressure?
There are a few contributing factors to the loss of air in your tyres including the following:
Change of season
Change of altitude
Overloading the recommended carry weight of the tyre
Change of driving conditions including bitumen, gravel, mud and sand
Low profile tyres
Before you do anything it's important to know what your tyre pressures should be. That can be achieved by referring to a tyre pressure chart, your vehicle placard and the information on the sidewall of the tyre.
What do I need to check tyre pressures?
Next, having the right equipment to check your tyre pressure is as simple as a $20 pressure gauge from your local service center. Pressure gauges can be as small as a pen and easily kept in your car for when it is needed.
Most service centers provide "Free Air". It's common that they provide a gauge with the air nozzle so you can check and fill your tyres on the spot to the correct pressure. Although, don't rely heavily on the accuracy of these gauges as they can sometimes be misused and damaged.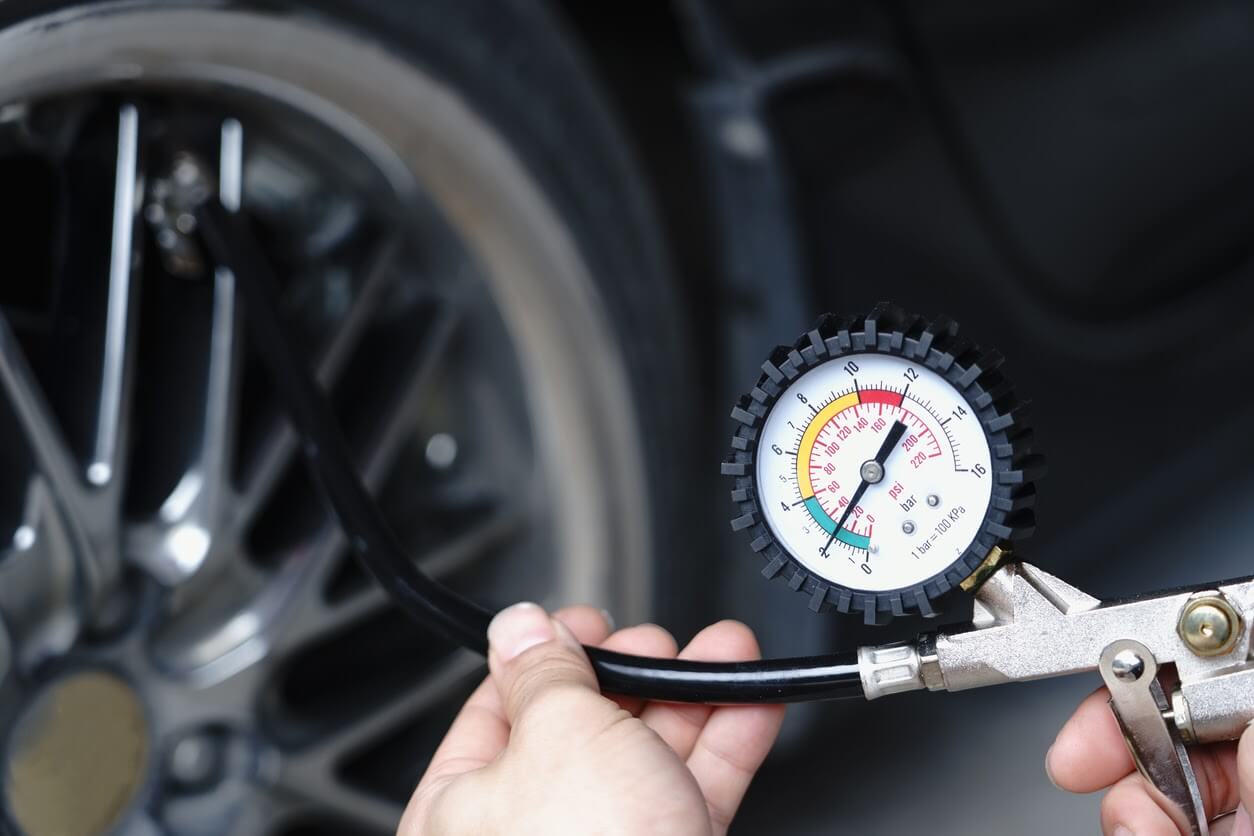 Are there other ways my tyres can leak?
Slow leaks and punctures caused by sharp objects can lead to being stranded on the side of the road somewhere. This can be avoided by regularly checking your vehicle's tyre pressures. If you are noticing large drops in pressure, the vehicle pulling to one side or you're experiencing vibrations in the steering wheel, check your tyre pressures immediately.
Maintain tyre pressure
Keeping your tyres at the correct pressure is as important as a mechanical tune up. Maintaining correct pressures will greatly assist in achieving the guaranteed lifespan of your tyres and will greatly enhance on-road safety.
You can have your tyres checked here at Kogarah Tyrepower by an experienced tyre fitter if you are unsure of your pressures. Our knowledgeable staff are here to help you with your enquiries.
Visit our store at 7 Lindsay Street, Rockdale NSW or phone us today on (07) 9587 3366 and one of our friendly staff will be of assistance.