Kogarah Tyrepower is open and working to ensure our customer and staff safety during the COVID-19 pandemic. Find out more
Tyre sidewall markings, explained in plain English.
tyre load index, tyre speed ratings, treadwear, tyre ratings, sidewall markings explained, tyre information, tyre age, aspect ratio, load rating, treadwear ratings, tread design, speed rating, utqg ratings, tyre load, section width
Something that every vehicle on our roads have in common: tyres. Let's take a deep dive into how to read the tyres on your car, SUV or 4x4.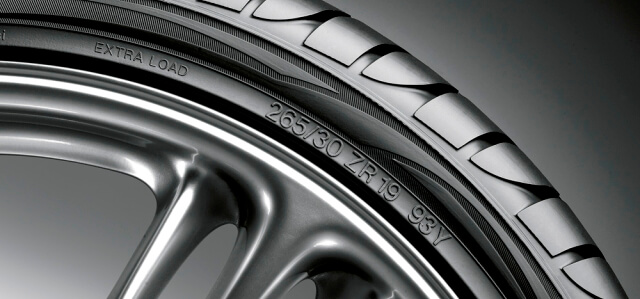 Sidewall markings explained.
All tyres sold in Australia will have tyre information stamped along the sidewall. Typically, tyre manufacturers will provide tyre measurements on the sidewall in metric measurements. The labeling scheme is universal across nearly all popular tyre brands. Let's take 215/55 R17 as a common size for a small car tyre.
- 215/55 R17 - section width of the tread is 215mm wide
- 215/55 R17 - the sidewall height (or aspect ratio) is 55% of the width of the tyre, in this case roughly 118mm.
- 215/55 R17 - this tyre was manufactured to fit onto a 17 inch wheel.
Sometimes off roaders will measure their tyres slightly different, as the total diameter of the wheel and tyre combination is a more important measurement than tyre width or wheel size.
In this case, a 285/75 R16 Mud Terrain (MT) tyre might be described as a 32 inch tyre. The math is pretty easy to figure out. Rim size + 2 x sidewall size, rounded off to the nearest inch.
Tyre Load Index and Speed Rating.
There is such a wide variety of vehicles on our roads, one tyre simply doesn't fit all purposes.Tyres are engineered for use within a weight range.
Designs such as sidewall thickness and reinforcement, tyre pressure specifications, and even tread design, dictates the load index a tyre receives. Load index is a number which relates to a table, showing the maximum weight that tyre is expected to comfortably perform under.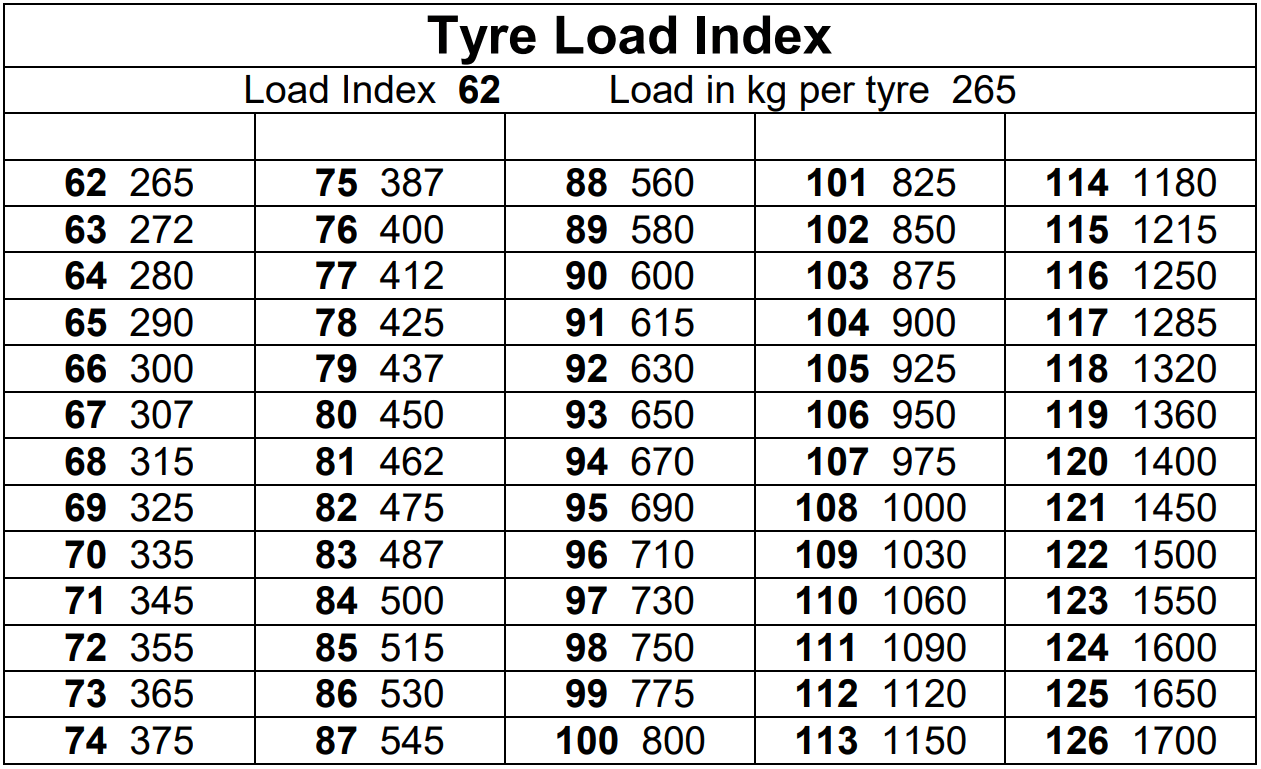 - Source: ADR (Australian Design Rule 23/02 – Passenger Car Tyres) 2007
Not all tyres are created equal, just as there are different load ratings, there are different speed ratings. While a heavy duty truck tyre might be expected to carry a heavier load, a sports car tyre is expected to hold together at much higher speeds and temperatures. Some tyres will have VR or ZR markings as well as a single letter code.

- Source: ADR (Australian Design Rule 23/02 – Passenger Car Tyres) 2007
How to read tyre age:
Now all the technical info is out of the way, here's the easy part. Tyre manufacture dates are a series of 4 numbers in a small box. The first two are a week number while the second two are the year. For example, a tyre stamped '2418' was made during the 24th week of 2018.
Due to the natural aging process of rubber, it is recommended that tyres begin to be inspected after 5 years of age, regardless of tread depth. Old tyres have an increased risk of blowing out, cracking or delaminating.
What about the Temperature, Traction and Treadwear rating marks?
Some tyres will also have UTQG ratings. This system originates in the United States under their DOT roadworthy scheme. While not compulsory in Australia, most tyres you see will have UTQG markings on them since the same tyre is sold across multiple countries.
The UTQG scheme covers 3 measurements:

Treadwear - expressed as a 3 digit rating used to compare expected tread life from one tyre to the next. For example a tyre with a rating of 400 is expected to last twice as long as a tyre rated to 200 if driven in the same style and conditions.
Temperature - A, B, C - ratings for how well the tyre will cope at sustained high speeds
Traction - AA, A, B, C - rates how well the tyre can handle an emergency stop on a wet road.
Time for a quick recap.
If you see a car sporting a set of Pirelli P Zero PZ4 with the sidewall markings '255/40R20 ZR 101Y 0819' you'll know that the tread is 255mm wide, low profile on a 20 inch rim. The tyre is suitable for a maximum load of 825kg per tyre and is rated up to 300kph (at the racetrack of course). Last but not least, these tyres were manufactured near the start of the year and were probably only recently fitted to the car!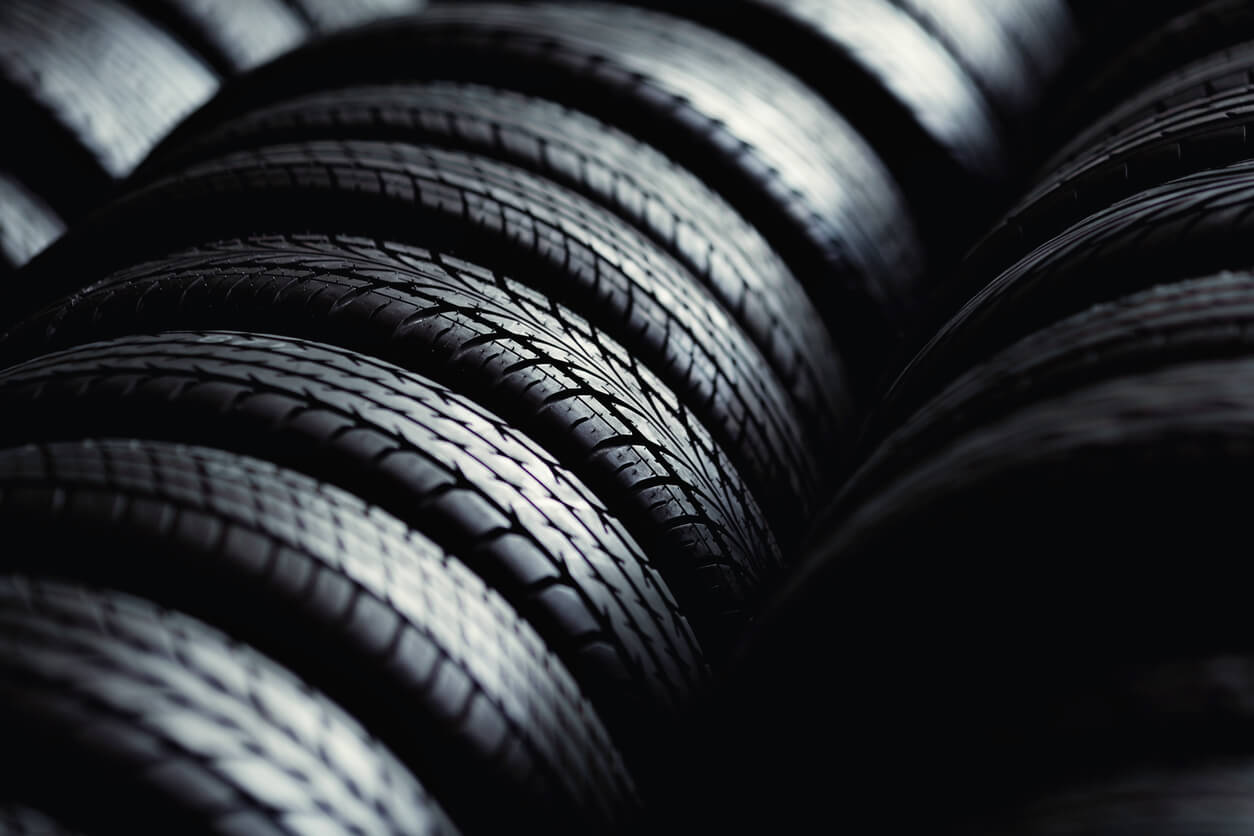 Get in Touch.
If you're looking at new tyres and trying to decide what's best for your passenger car, 4x4, SUV or performance euro, get in contact with Barry and the team at Kogarah Tyrepower. Servicing Kogarah, Tempe, Turrella, Bardwell Valley, Banksia, Hurstville, Sans Souci, Rockdale, Arncliffe and the St George areas, we stock a wide range of tyres from the biggest names in the business to suit all makes and models.
So if you need tyres, pink slips or any of our other services, make sure you give us a call on (02) 9587 3366, or drop by the store at 433 West Botany Street, Kogarah.